FOR THE FIRST TIME IN HISTORY, WE SAW TWO BLACK HOLES IN COLLISION
For the first time, astronomers observed the final stages of galactic fusions, looking through thick walls of gas and dust to see pairs of supermassive black holes approaching. In the centers of most, if not all galaxies, there are supermassive black holes with masses that are millions to billions of times greater than the Sun. For example, at the heart of our Milky Way is Sagittarius A *, which has about 4.5 millions of solar masses.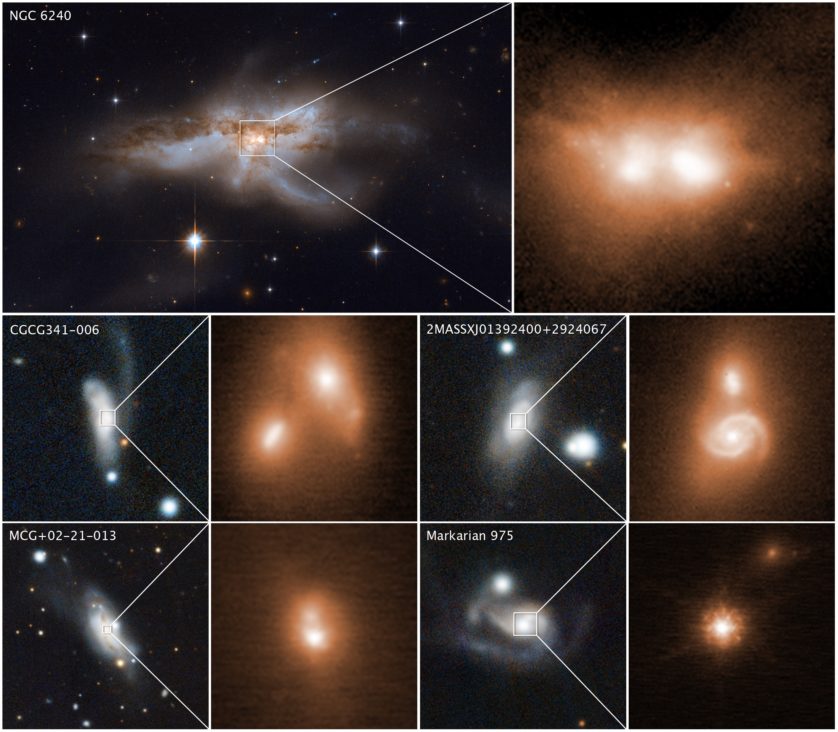 Previous research has found that fusions of galaxies can help fuel the growth of supermassive black holes. And this new research has suggested that black holes in the nuclei of colliding galaxies can combine to become even larger black holes.
Now researchers have looked at several pairs of galaxies in the final stages of fusion, and their major supermassive black holes are approaching. The findings provide insight into how even more massive black holes can emerge. Scientists first searched for hidden black holes by analyzing 10-year X-ray data from NASA's Neil Gehrels Swift Observatory.
When black holes devour matter, these "active" black holes can generate high-energy X-rays, visible even through dense clouds of gas and dust.
The researchers then looked for galaxies that combined with these X-ray findings, scouring data from NASA's Hubble Space Telescope and the Keck Observatory in Hawaii. Computer-controlled deformable mirrors, a technology called adaptive optics at the Keck Observatory help sharpen star images, "leading to a huge increase in resolution," said Michael Koss, an astrophysicist at scientific research firm Eureka Scientific.
In all, the scientists analyzed 96 galaxies observed with the Keck Observatory and 385 galaxies from the Hubble archive. All of these galaxies are located at an average of 330 million light years from Earth, relatively close in cosmic terms, many of them similar in size to the Milky Way.
The researchers found that more than 17 percent of these galaxies harbored a pair of black holes in their centers, signals of the final stages of a galactic fusion. These findings combined with the researchers' computational simulations, which suggested that highly active but heavily obscured black holes hidden in galaxies rich in gas and dust are responsible for many fusions.
An even better view of fusions in diffused and heavily obscured galaxies may come from the much anticipated James Webb Space Telescope, slated to be released in 2021. The James Webb Space Telescope should also be able to measure masses, growth rates, and other physical characteristics of each member of the pair of nearby black holes. Let's wait for more incredible discoveries! [ Space ]